Commercial and Residential Bush Hogging Services
We understand that as a property owner, farmer, or construction company foreman, you have unique needs when it comes to land maintenance and preparation. That's why we're here to introduce you to our top-notch bush-hogging services, tailored specifically to meet your requirements. Whether you have expansive fields, overgrown pastures, or construction sites that demand efficient land clearing, our skilled team is ready to assist you.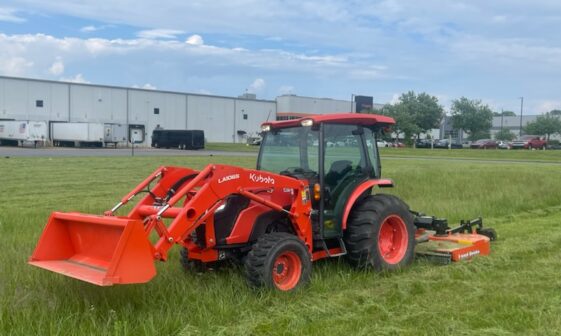 What is bush-hogging?
Bush hogging, is also known as brush hogging, rough mowing, or rotary mowing. This is a specialized brush-clearing technique involving the use of a powerful rotary cutter. It is designed to tackle thick vegetation, overgrown brush, and tall grasses in large areas. This method is also referred to as rough-cut mowing or field mowing, but it's all the same.
How does bush-hogging work?
The rotary cutter, commonly referred to as a bush hog, features sturdy blades that spin rapidly. These bush hog blades can effectively cut through dense vegetation at ground level. We use this method when maintaining and clearing open fields, pastures, meadows, and other expansive areas.
Six Reasons to Choose Our Bush-Hogging Services
Experience and Expertise: With years of experience in the landscaping industry, our team of professionals has extensive knowledge and expertise. We understand the specific challenges faced by property owners, farmers, and construction companies, and we know how to tackle them effectively.
Customized Solutions: We believe in providing personalized services that align with your unique needs. We tailor our bush-hogging services for different types of brush to suit your requirements.


Regular maintenance of your property
Land clearing for agricultural purposes
Site preparation for construction projects, and more.

Cutting-Edge Equipment: Our heavy-duty machinery will handle what a riding mower or farm tractor alone could not accomplish. Modern tools, and skilled operators, enable us to efficiently clear heavy brush, and control high weeds, and overgrown fields. You can trust us to handle projects of any size or complexity with precision and professionalism.
Timely and Reliable Service: We understand the importance of staying on schedule and minimizing disruptions to your operations. You can count on us to arrive promptly and complete the job within the agreed-upon timeframe. Our commitment to reliability ensures that your land maintenance or preparation stays on track.
Safety and Compliance: Safety is our top priority. Our team follows strict safety protocols to ensure a secure working environment for both our crew and your property. We are fully licensed and insured, giving you peace of mind and protecting your investment throughout the project.
Cost-Effective Solutions: We believe that quality landscaping services should be accessible without breaking the bank. Our bush-hogging services are competitively priced, offering you cost-effective solutions without compromising quality work. We provide transparent pricing and detailed project estimates, allowing you to plan your budget with confidence.
At Dependable Ground, we take pride in our ability to deliver exceptional bush-hogging services. By choosing us, you can expect professional, customized solutions that meet your specific land maintenance and preparation needs.
Contact us today to discuss your project requirements and to schedule a consultation. Our friendly team is ready to assist you and transform your land into a well-manicured, functional space. Experience the difference that our reliable and efficient bush-hogging services can make for your property, farm, or construction site.